Find The Best Nursing Jobs in Your Area – Advantage Medical Professionals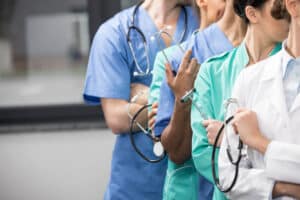 If you're looking for the best nursing jobs in your area, look no further than Advantage Medical Professionals. We are a leading staffing agency specializing in providing top-quality nurses to healthcare facilities across the country.
We offer a wide variety of nursing job opportunities, from travel RN jobs, per diem nurse assignments, it's easy to book high-paying assignments. With us, you get paid well to do what you already love.
An award winning travel nurse agency, you'll find a variety of travel nursing assignments that will help you achieve your career goals! No matter what your qualifications or experience level, we can help you find the perfect nursing job to match your needs.
Advantage Medical Professionals is committed to providing our nurses with the best possible working conditions and compensation. We offer competitive pay rates, flexible scheduling, and a wide range of benefits, including health insurance, disability insurance, vision dental and much more! We also provide our nurses with ongoing support and have a Director of Nursing (DON) on staff to help all nurses succeed in their clinical roles.
We've helped thousands of travel Registered Nurses (RN) and Licensed Practical Nurses (LPN) find rewarding opportunities in healthcare facilities across the country. Travel nursing has allowed them to explore the country and work in the highest-rated hospitals in the United States.
We partner with top acute care facilities and provide our travel nurses access to thousands of exclusive jobs. Ranked as the leading travel nursing staffing agency in the gulf coast region, we pride ourselves in connecting quality healthcare professionals to achieve exceptional patient care.
If you're interested in finding out more about our nursing job opportunities, contact us today. We would be happy to discuss your qualifications and experience level with you and match you with the perfect nursing job.