8 Destinations Every Travel Nurse Should Consider This Summer
Things are heating up, and we don't just mean the temperature. While staff nurses and healthcare professionals are busy booking their annual summer vacations, hospital staffing managers are scrambling to make sure all nursing units are well covered throughout the summer season – which means it's time for us travel nurses to enter the chat. It's time to book your own summer workcations, and we are feeling bold enough to make a few recommendations for places you should consider spending your time working AND playing this summer.
Washington
With Washington state finally enacting the NLC, we can guarantee that travel nurses like you are seriously considering migrating north for the summer. Aside from being the birthplace of Starbucks, Washington State truly has a lot to offer, especially if blazing hot summers in the southern states aren't your scene. Check out the beautiful trails of the Hoh Rainforest, explore caves in the Gifford Pinchot National Forest, or explore the endless shops and stalls of Seattle's famous Pike Place Market.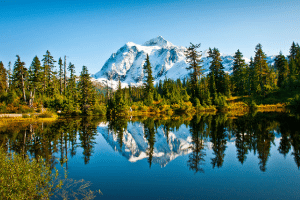 Texas
The high concentration of hospitals, medical research centers, and medical facilities in Texas provide many travel nursing opportunities consistently throughout the year. If you're someone who thrives from taking a daily walk or bike ride, you won't be disappointed with all the outdoor activities the Lone Star State has to offer. Stroll down the Riverwalk in San Antonio, enjoy the many museums, parks, and family activities throughout the Dallas/Fort Worth metro area, or soak in the uniquely weird and wonderful music and art scene of Austin.
>> Check out our Texas Destination Spotlight for more info about travel nursing in the Lone Star State.
Ohio
It's been said Ohio is for lovers, and it turns out there's a lot to love about Ohio that isn't talked about enough. For example, Ohio is considered one of the most affordable states to live in, mostly due to affordable housing and relatively low cost of living – two important factors travel nurses should always consider before accepting a travel nursing assignment. Ohio boasts attractions that appeal to a variety of interests like Serpent Mound, Hocking Hills State Park, and the annual spring Celtic Cocktail Trail. Also, it would be almost criminal if you left without paying a visit to the world-renowned Cincinnati Zoo.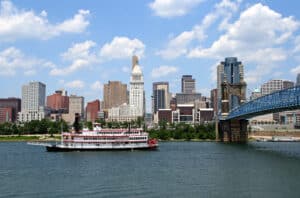 Louisiana
Louisiana is also considered one of the top 20 most affordable places to live, which makes it easier to make a little more room in your dining out/grocery budget. Why, you ask? Because in case you didn't know, Louisiana is home to some of the best local seafood and some of the best restaurants in the nation – especially if you happen to take a travel assignment in one of the hospitals in or around New Orleans. We may be just a little biased, so you should definitely come and experience it for yourself just to make sure. If peace, quiet and the solitude of nature sound appealing to you after a long shift, take a hike in Tunica Hills or take to the waters down Black Bayou Lake Trail. We know just how darn hot Louisiana summers can be, but you can cool off in the award-winning and newly renovated Aquarium of the Americas located right on the famous Riverwalk in New Orleans or one of the many museums located in downtown Baton Rouge.
>> Want to learn more about travel nursing in Louisiana? We've got you! 
Florida
The Sunshine State has an abundant variety of two things most travel nurses feel strongly about – travel nursing opportunities AND beaches. Florida's traveler-friendly reputation is no surprise since it's home to several world-renowned amusement parks like Disney World and Universal Studios. Tampa, Panama City, and Miami are among the many beach locales that nurses flock to all summer long. However, if you're looking for less touristy places to live and work, consider taking a summer travel assignment in one of Florida's smaller beach towns like Stewart or Ocala.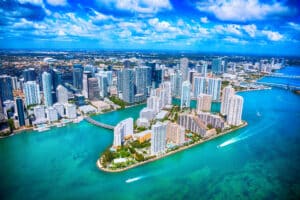 New Mexico
The rich culture and cuisine against the iconic backdrop of deserts, mountains, and vibrant Pueblo-style architecture are just a few reasons New Mexico is named the Land of Enchantment. For the nature-loving travel nurse, White Sands National Park and Carlsbad Caverns National Park are two must-dos. For the nurse looking to immerse themselves in the local cuisine, there's no shortage of green chile options to try throughout the state's many roadside fruit stands and farmers' markets. The Sawmill Market in Albuquerque is one of the area's favorites among travelers and locals alike, with 20+ local vendors selling everything from frozen drinks and coffee to authentic New Mexican foods.
West Virginia
West Virginia is known for its beautiful countryside, majestic Appalachian Mountains, historical landmarks, and being home to some of the friendliest people you'll ever meet. If you don't believe us, just ask John Denver – we hear he's kind of a big fan. Of course, Charleston is a popular tourist attraction with endless museums, historical landmarks, restaurants, and shops. The town of Wheeling, located in the foothills of the Appalachian Mountains, has some breathtaking views that definitely make it worth a visit. We also highly recommend visiting Harpers Ferry, which features museums and shops housed in 19th-century buildings that make you feel like you're taking a trip back in time. If you're feeling brave enough, Harpers Ferry's Low Town is also home to one of America's oldest ghost tours.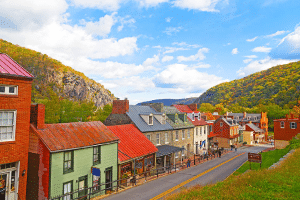 Georgia
Travel nurses seem to agree that Georgia is a peach of a state to live and work. Atlanta is home to several top-notch hospitals, nightclubs, and the world's 2nd largest aquarium. Those who prefer a more relaxed spring vibe, downtown Savannah is the quintessential charming southern town. Those who prefer to travel off the beaten path can visit Providence Canyon State Park, which boasts 1,003 acres of campsites, trails, and even a museum.
>> Treat yourself to a change of pace (and PLACE) by exploring all the travel nursing assignments we have available nationwide.
>> Check out all of our Destination Spotlight blog posts to find out which US destinations you should add to your travel assignment bucket list!