Travel Nurse Destination Spotlight: Georgia
Travel nurses who were lucky enough to take a travel assignment in Georgia agree that it's a peach of a state to live and work. It offers a diverse landscape, from the gentle rolling hills of its countryside to the bustling streets of Atlanta.  Georgia is also home to several top-notch hospitals, nightlife, and the world's 2nd largest aquarium. For those who prefer a more relaxed spring vibe, places like downtown Savannah is the quintessential charming southern town. Prefer to travel off the beaten path entirely? Explore the many state parks and hiking trails the Peach State has to offer.
World of Coca-Cola
Calling all caffeine addicts and aficionados (that includes you, healthcare heroes)! Located in Coca-Cola's birthplace of Atlanta, the World of Coca-Cola Museum is a fun, light-hearted homage to the rich history of our nation's favorite iconic beverage brand, offering guided tours, interactive exhibits, and tastings.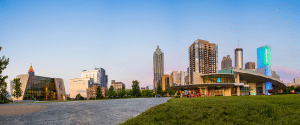 Martin Luther King Jr. National Historic Park
Located in the heart of Atlanta, the Martin Luther King Jr. National Historic Park is actually a collection of notable sites honoring the life and legacy of Dr. Martin Luther King Jr., including his birth home and the Ebenezer Baptist Church.
Georgia Aquarium
While you're in the neighborhood, you should also walk over to the Georgia Aquarium, famed for being one of the largest and most impressive aquariums in the world. It is home to a diverse range of marine life, and it proudly hosts a variety of permanent exhibits, temporary exhibits, and special events throughout the year – including exclusive overnight stays.
Atlanta Botanical Garden
Atlanta isn't all museums and celebrations of capitalism own botanical garden features a wide variety of plants, a lovely canopy walk, and seasonal exhibits.
Downtown Savannah
Downtown Savannah is just one of Georgia's quintessential charming southern towns, featuring a beautifully preserved historic district with cobblestone streets, stunning architecture, and charming squares.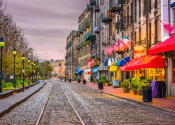 Jekyll Island
Jekyll Island is one of several barrier islands located on the eastern coast of Georgia with beautiful beaches, golf courses, and historic landmarks.
Providence Canyon State Park
Located just one hour south of Columbus, Georgia, Providence Canyon State Park boasts 1,003 acres of campsites, trails, and even a museum.
Radium Springs Gardens
One of Georgia's Seven Natural Wonders, Radium Springs Gardens in Albany is a historic site with beautiful gardens and a natural spring that pumps crisp, cool, crystal-clear waters from an underground cave. Radium Springs was also home to a once-popular resort and casino in the early 20th century.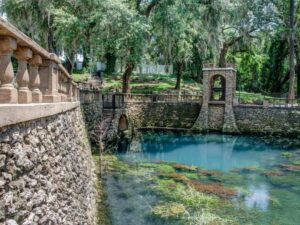 Albany Museum of Art
The stunning Albany Museum of Art in Albany, Georgia showcases a diverse collection of regional and contemporary art.
Stone Mountain Park
Situated between Atlanta and Athens, Georgia's Stone Mountain is a massive granite dome with hiking trails, a cable car ride, and a scenic railroad. While you're there, you can pamper yourself at the full-service Atlanta Evergreen Lakeside Resort or kick back at the Inn at Stone Mountain Park if you're after a more rustic vibe.
>> Click to check out all of our Destination Spotlight blog posts to find out which US destinations you should add (and cross off) your travel assignment bucket list!  
>> Treat yourself to a change of pace (and PLACE) by exploring all the travel nursing assignments we have available nationwide.