9 Must-See Travel Nursing Destinations in Autumn 2023
As the sweltering heat of summer begins to wane, it's the perfect time for travel nurses to embark on a new (and slightly cooler) adventure. Autumn is considered a season of unparalleled beauty with its crisp air, falling leaves, and sense of natural transformation. If you're a wanderlust-driven healthcare professional looking to combine your passion for nursing with the joys of exploring new places, you're in for a treat! We'll guide you through a curated list of autumn travel nursing destinations with promising work opportunities and unforgettable experiences amid the breathtaking backdrop of fall foliage. Whether you're craving the vibrant colors of New England or the serene forests of the Pacific Northwest, these destinations will leave you inspired, refreshed, and ready to embrace the autumnal (or spooky) spirit.
Washington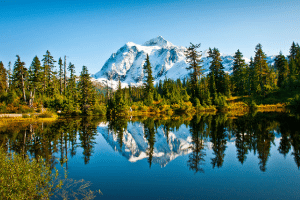 Speaking of the Pacific Northwest, Washington state's freshly minted status as a compact state has more travel nurses looking into travel assignments in and around the Evergreen State. Seattle and the surrounding areas are already credited with having competitive pay rates, safe ratios, and an established travel nursing community.
Attractions: Pike Place Market, Bainbridge Island, Bavarian village of Leavenworth
North Carolina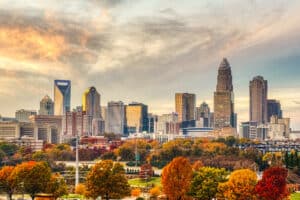 Whether you drive up the famous Blue Ridge Parkway for Asheville's vibrant art scene or a brisk mountain hike in the rich fall foliage of the Appalachian Mountains, The Tar Heel State has a little something for everyone – in fact, "The Variety Vacationland" is one of North Carolina's other state nicknames of record.
Attractions: Grandfather Mountain, The Biltmore Estate in Asheville, The Great Smoky Mountains
Virginia
Virginia is another state along the famous Blue Ridge Parkway worth calling home during the fall months. The rich fall foliage is the perfect backdrop to the Dominion State's many quaint, historical (and possibly haunted) locations.
Attractions: Carter Mountain Orchard in Charlottesville, Edgar Allan Poe Museum in Richmond, Blue Ridge Parkway
Tennessee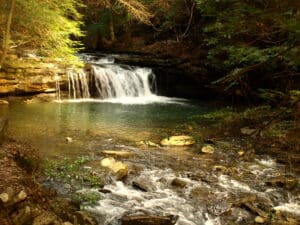 With the Volunteer State being ranked 10th in the nation for affordable cost of living*, travel nurses working and living in Tennessee can actually afford to visit famous locales like Music City (Nashville) or cozy up in one of the rustic cabins in Gatlinburg for a long weekend. Now that's music to our ears!
Attractions: Ruby Falls Haunted Cavern in Chattanooga, Graceland Haunted Mansion in Memphis, The Grand Ole Opry House in Nashville
West Virginia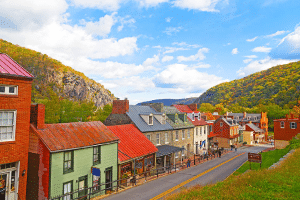 If it's impressive enough for John Denver to write a song about, we're willing to bet it's at least worth a visit to The Mountain State this fall. With one of the most affordable housing markets (ranked #2 in the nation for housing affordability*), there are plenty of places along West Virginia's celebrated country roads you can call home this fall.
Attractions: The Trans-Allegheny Lunatic Asylum in Weston, Cass Scenic Railroad, Harpers Ferry ghost tours
Kentucky
Aside from the state's beautiful weather and natural beauty throughout the autumn season, Kentucky is also known for having one of the lowest costs of living (ranked 3rd in the nation*). Even better news for travel nurses is that the Bluegrass State also has very affordable housing (ranked 4th in the nation for housing affordability*).
Attractions: Bourbon Trail, Waverly Hills Sanatorium in Louisville
>> Want to learn more about travel nursing in Kentucky? We've got you! 
Arizona
For a slightly different twist on autumn, head west to Arizona. The Grand Canyon State isn't just home to one of the most famous natural wonders in the world. It's also home to several up-and-coming travel nursing hotspots like Phoenix, Scottsdale, and Flagstaff.
Attractions: Ghost Town of Jerome, The Grand Canyon
North Dakota
If the thought of bustling city streets or another crowded commute to work makes your blood pressure spike, just take a deep breath….and head up to the tranquil prairies of North Dakota. Thanks to the rural landscape and simple way of life North Dakota natives have come to cherish, rush hour traffic, and overpriced city living are two things you'll see very little of in The Peace Garden State.
Attractions: Downtown Fargo, Bonanzaville in West Fargo, The Rendezvous Region
Louisiana
Last, but definitely not least, is our own home state. For those who prefer to flock down to a warmer climate during the colder months, you can leave your parka behind. However, don't forget to bring your love of spooky season – Southern Louisiana is also home to not one, but two of the nation's most haunted locations. Even if spooky season isn't your jam, the rich music and food culture throughout the Bayou State will be.
Attractions: The Myrtles Plantation in St. Francisville, The LaLaurie Mansion in New Orleans, The New Orleans Pharmacy Museum
>> Start planning your autumn travel nursing adventure TODAY!
>> Check out all of our Destination Spotlight blog posts to find out which US destinations you should add to your travel assignment bucket list!  
Sources:
Housing affordability & cost of living rankings: https://www.usnews.com/news/best-states/rankings/opportunity/affordability