Travel Nurse Destination Spotlight: Kentucky
Are you a travel nurse in search of your next exciting assignment? Look no further than the picturesque state of Kentucky, where healthcare meets hospitality and adventure awaits. From the rolling hills of the Bluegrass region to the vibrant culture of cities like Lexington and Louisville, the 'Bluegrass State' has a lot to offer. In this blog post, we'll explore why Kentucky should be at the top of your list for your next travel nursing adventure. Discover competitive pay, a diverse range of healthcare facilities, and a wealth of attractions that promise a memorable experience both inside and outside of the hospital. Whether you're a seasoned travel nurse or just starting your journey, Kentucky's charm and opportunities are sure to leave a lasting impression.
Kentucky Horse Park
Located in Lexington, Kentucky Horse Park is a tribute to the state's equestrian history. Owned and operated by the Commonwealth of Kentucky, the park features several museums, exhibits, and horses of course! Guests of all ages have the opportunity to see various breeds of horses or even go on a horseback trail ride (pony rides are also available for kids).
 >> Find travel nursing assignments available in & around Lexington, Kentucky!
The Bourbon Trail
Kentucky is famous for its bourbon whiskey, and the Bourbon Trail takes you through several distilleries throughout Kentucky, including historic Bardstown, also known as "The Bourbon Capital of the World". The Bourbon Trail also includes world-famous bourbon distilleries like Woodford Reserve and Maker's Mark, where you can sample some of the finest bourbons in the state. We also highly recommend the Heaven Hill Bourbon Experience, where you can take a guided tour and craft your very own bottle of bourbon.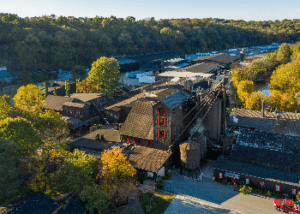 Mammoth Cave National Park
Aside from the Bourbon Trail and the Kentucky Derby, Kentucky is also home to the world's largest cave system. You can tour this cave system by visiting Mammoth Cave National Park, located just northeast of Bowling Green. You can take advantage of one of their many guided tours on offer (tour availability varies by season) or even camp there overnight.
The Arboretum: State Botanical Garden of Kentucky
The State Botanical Garden of Kentucky is a peaceful and scenic place for outdoor enthusiasts, offering walking trails, themed gardens, and educational programs. Check out the Walk Across Kentucky Native Plant Collection, which represents plant life from 7 different regions across the Bluegrass state. The arboretum even includes the Kentucky Children's Garden, a two-acre garden area dedicated for children to explore.
Cumberland Falls State Resort Park
Known as the "Niagara of the South," Cumberland Falls is famous for its impressive waterfalls, moonbows (nighttime rainbows), and opportunities for hiking and exploring the surrounding area. Visitors of the park can go fishing, hiking, gem mining, horseback riding, swimming, or simply enjoy a picnic with a beautiful view. The park also has a variety of lodging options available for campers and glampers alike.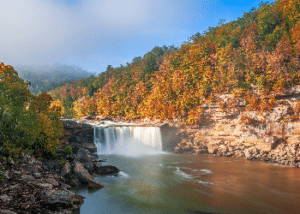 Shaker Village of Pleasant Hill
The historic Shaker Village of Pleasant Hill in Harrodsburg, Kentucky (about 40 miles southwest of Lexington) showcases the Shaker way of life and provides insight into its unique culture and architecture. Shaker Village features 3,000 acres of land where visitors of all ages enjoy unique experiences at The Historic Centre, The Farm, or The Preserve. Finish off your adventure with dinner at their landmark restaurant, The Trustee's Table where guests can enjoy a true farm-to-table dining experience.
Historic Old Louisville
Explore the largest Victorian neighborhood in the United States, with well-preserved historic mansions and tree-lined streets.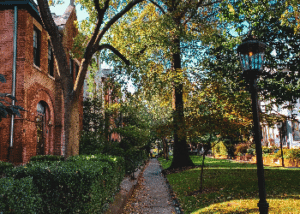 >> Treat yourself to a change of pace (and PLACE) by exploring all the travel nursing assignments we have available nationwide.
>> Check out all of our Destination Spotlight blog posts to find out which US destinations you should add to your travel assignment bucket list!