Travel Nurse Destination Spotlight: Oklahoma
Intersected by the famous Route 66, Oklahoma was coined as the "Sooner State" because of the influx of settlers who arrived in the area (which was then Indian territory) before it was even officially opened for settlement in 1889. Oklahoma became the 46th U.S. state in 1907.
Oklahoma's rich Native American culture, 33 state parks, and abundant variety of interesting museums make it a must-see U.S. travel destination for nature lovers and history buffs alike. A huge perk that travel nurses can definitely appreciate about the Sooner State is that it boasts one of the nation's most affordable housing rental markets; the average cost to rent a typical one-bedroom apartment is only about $650 per month.
Medicine Park
The idyllic resort town of Medicine Park in southwestern Oklahoma features the unique waterfalls of Medicine Creek, the nearby Wichita Mountains, and an abundance of cobblestone pathways weaving through one-of-a-kind local shops and bakeries like Cobblescones. What's not to love?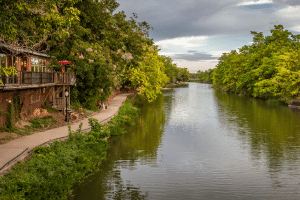 Guthrie
We all know the state's capital is Oklahoma City, but we're willing to bet most people don't know the city of Guthrie was Oklahoma's original state capital until 1910. That being said, it's no wonder so many of Oklahoma's historical landmarks are located there, like the Frontier Drugstore Museum and the Oklahoma Territorial Museum & Carnegie Library. Hop on the First Capital Trolley and head downtown for shopping and local eateries like Hoboken Coffee Roasters or Katie's Diner. Rooster's Hard Times Club is just the place to have a cocktail and unwind after a particularly stressful nursing shift.
Red Earth Native American Cultural Festival
This three-day celebration of Oklahoma's rich Native American culture is held each summer in Oklahoma City. Native American tribes from Oklahoma and throughout the United States come to share their music, dance, and artwork. Highlights of the Red Earth Native American Cultural Festival include a grand parade in the streets of downtown Oklahoma City and the Red Earth Fancy Dance Competition.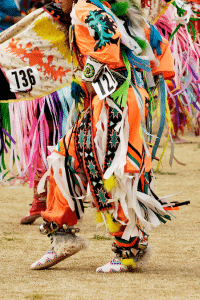 Bricktown Canal District
The Bricktown Canal District may be in the heart of Oklahoma City, but it gives major Riverwalk San Antonio vibes. Over the years, this former warehouse district had transformed from a place of work to a place to unwind, eat, and play (and yes, we literally mean play) – it's also home of the Chickasaw Bricktown Ballpark, where you can go catch an Oklahoma City Dodgers game on a summer afternoon. Bricktown also has a bustling nightlife scene with plenty of restaurants, bars, and clubs like Bricktown Comedy Club or Michael Murphy's Dueling Pianos to enjoy live music and socialize.
Wichita Mountains
The Wichita Mountains Wildlife Refuge preserves about 60,000 acres of land and wildlife including herds of longhorn, bison, and Rocky Mountain elk. The unique combination of granite mountains, prairies, and freshwater streams here makes this wildlife refuge an ideal spot for everyone to enjoy – whether that means hiking, biking, camping, fishing, or kayaking. What's even better is that guests can enjoy the park for the day completely free of charge (however, there is a small fee for those who wish to camp there overnight).
Turner Falls Park
Turner Falls Park in Davis, Oklahoma is home to the tallest waterfall in Oklahoma at a breathtaking height of 77 feet tall that cascades into a sparkling natural pool perfect for taking a summer dip. You can hike, swim, camp, or glamp near the beautiful waterfalls by renting a campsite or a cabin. If you're traveling by RV, you can even make yourself at home throughout the duration of your travel assignment by renting one of their RV sites.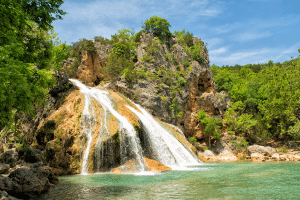 A to Z Guest Ranch
Nestled in the Kiamichi Mountains in southeastern Oklahoma, A to Z Guest Ranch is the perfect place to enjoy a unique, family-friendly ranch experience. You can book a horseback guided tour or head out on your own solo horseback trail ride. If you're looking for a romantic getaway or a weekend of self-pampering, the ranch has five unique cabins to choose from where guests can also enjoy a variety of on-site spa services.
Route 66
Given that Oklahoma is home to a section of the iconic and much-revered Route 66, it is also home to some unique tourist attractions and a glimpse of classic Americana like the Oklahoma Route 66 & Transportation Museum in Elk City. Don't miss the nearby Elk City Museum Complex, which includes several smaller museums such as the Old Town Museum and the Farm & Ranch Museum.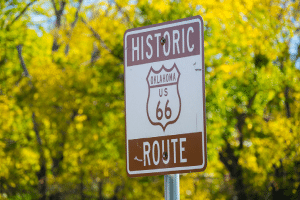 Jenks
If you get a thrill from hunting for antiques, it's worth taking your treasure hunt to Main Street in Jenks, Oklahoma. The town of Jenks prides itself on its unique and plentiful antique scene – in fact, the locals insist their quaint little town is the unofficial "antique capital of Oklahoma," and we can't help but agree with them. They even have full-blown antique malls like The River City Trading Post – in fact, we highly recommend you peep their Instagram page to get an idea of just how many unique items they have up for grabs, ranging from the timelessly beautiful to fun and quirky.
The Outsiders House
If the names Ponyboy, Sodapop, or Johnny Cade mean anything to you, we insist you take a trip down memory lane right into Greaser territory – or in this case, a very real neighborhood in Oklahoma. The fictional home of Ponyboy Curtis and its surrounding Tulsa neighborhood were hand-picked by Hollywood director Francis Ford Coppola to film the movie adaptation of "The Outsiders" book by author S.E. Hinton. In the spirit of preserving the house and memorabilia from this 80s-era cult classic, that iconic house the Curtis brothers called home in the film was frozen in time as The Outsiders House Museum. As healthcare professionals, we can all use the occasional reminder to "Stay Golden".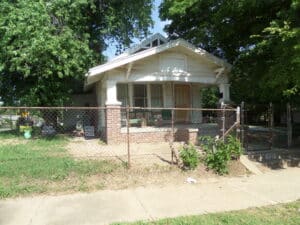 >> Treat yourself to a change of pace (and PLACE) by exploring all the travel nursing assignments we have available nationwide.
>> Check out all of our Destination Spotlight blog posts to find out which US destinations you should add to your travel assignment bucket list!