AMP Staffing Celebrates Nurses Week: Trena Schenck, RN, BSN
AMP Staffing Celebrates Nurses Week: Trena Schenck, RN, BSN
Nurses Week is a yearly celebration beginning on May 6th and ending on May 12th that honors the nursing profession. This year, we're celebrating each day by turning the spotlight on one of our very own healthcare heroes! Read on to learn more about Trena Schenck, RN, BSN.
Tell us a little about yourself.
I am the mother of five beautiful children and my family is definitely what I am passionate about! Some of my hobbies include reading, cooking, and of course traveling! An interesting fact about me is that I lived in New York City and did some modeling when I was 18 years old.
What is something you think people would be surprised to know about being a nurse?
The opportunities are endless! There are so many different things you can do as a nurse!!
Who/what was your biggest influence in your career and why?
My mother and grandmother are two of the most nurturing women I know and I am sure they are the reason I love to take care of people.
Why did you choose your specialty and what do you think it takes to be successful in that specialty?
I absolutely have a heart for mental health and want to make a difference in the lives of others. This can definitely be a challenging field to work in but it's so worth it! Key to success is truly caring for the patient as if they were your own family member and definitely having a lot of patience!
Nursing is a unique and rewarding career path. What do you love most about nursing?
I love that nursing allows me a position to empower others and contribute to improving the quality of life of my patients.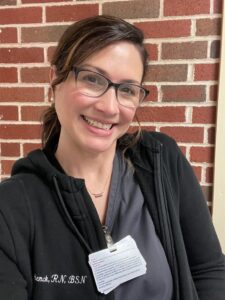 What has been the most memorable moment of your career so far?
My first travel assignment was definitely my most memorable. I started my assignment right as my children were getting out of school so they were able to come with me. We spent the summer in Boston and did so many amazing things! and for me as a nurse it was an invaluable learning experience!
Describe one of your best shifts ever as a travel nurse. What made it special?
Anytime someone expresses to me that I made them feel cared for is always special. It means a lot to me that my patient knows I genuinely care about helping improve the quality of their life.
Want to find out more about what it takes to be a nurse for Team AMP?
Contact us today to learn more!