How To Begin Travel Nursing
Have you ever thought of traveling and seeing the states you've never been to before? As the pandemic continues and the need for quality nurses grows across our country, this might be the time to consider Travel Nursing. Facilities throughout the United States are in need of more and more helpful than ever before. Here are a few things you need to know before applying for that first travel assignment.
Basic Requirements Needed:
Most travel nurse companies require a minimum of two years of bedside experience as a nurse. Our team will work with you if you have at least 1 year of experience. We can help find the facilities that you will be comfortable with and will work well with your experience level.  ­­­
You must hold an active nursing license. Whether for the particular state you'd like to travel to or a compact license. Obtaining a Nurse Licensure Compact (NLC) license will open more doors quickly. This provides you with a multi-state license that allows you to practice in all but 9 states at the present time of this publication. You can find more information on obtaining a Compact license on the NCL Website.
In addition to your license, you will need other basic certifications. Having a current certification will likely put you at the top of the list for certain facilities.  It is standard practice for all healthcare facilities to require a Basic Life Support (BLS) certification.
Depending on your specialty, you may also need Advanced Cardiac Life Support (ACLS), Non-Violent Crisis Prevention (CPI), and Pediatric Advanced Life Support (PALS), to name a few. Remember, the more certifications you have when you are submitted, the stronger your appeal to the client will be.
How to Be Successful:
Versatility and flexibility are 2 characteristics that will make you stand out from other travel nurses. A client is willing to pay a higher rate if you are willing to float to more than one unit. To do this and be able to provide good quality care, you need to have experience in different unit types. This is also a great way to advance your career and you may be able to find a new specialty you love!
Travel nursing assignments don't usually have long periods of orientation. Healthcare facilities are looking for a nurse who can hit the ground running. Be prepared to assume the burden of figuring out minor hurdles on your own. Don't ever be afraid to ask questions, but do a little reaching when you can.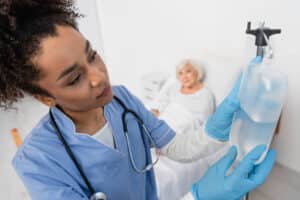 YouTube has a video for almost everything, including how to run an IV pump (including multiple different brands). You can also Google brand name equipment and find the user manual online. Be prepared, ask what IV pump and/or bedside monitoring system they use. If you are unfamiliar with their brand – look it up and you're sure to find something on it.
Here at Advantage Medical Professionals, communication with your recruiter will help you become more comfortable with the application and submission process. They can provide guidance on resume building, certifications, housing, and anything you need to find the best assignment for you. We provide a personal touch to each of our healthcare providers. Our DON is also just a text or a phone call away (504-883-8711).