Advantage Medical Professionals Celebrates Nurses Week: Micha Dyson, RN
Advantage Medical Professionals Celebrates Nurses Week: Micha Dyson, RN
Nurses Week is a yearly celebration beginning on May 6th and ending on May 12th that honors the nursing profession. This year, we're celebrating each day by turning the spotlight on one of our very own healthcare heroes! Read on to learn more about Micah Dyson, RN.
What do you enjoy most about being a nurse?
First, I love helping others in their time of need. My motto is to care for others the way I would want my family to be cared for. I also enjoy being a resource and encouraging the newer nurses as they start out.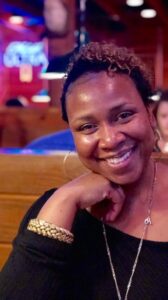 What was it like being a nurse during the COVID-19 pandemic?

Very scary!! Probably one of the most challenging times of my life, not only as a nurse, but also as a wife and a mother. The thought of possibly spreading the infection to my family and especially my children was a constant fear.
What do you love to do on your days off when you're not working on an assignment?
I love spending time with my family, watching football and fishing.
What is one food you can eat and never get sick of?
Tacos!!

Who has been your biggest inspiration within the nursing profession?
I really can't say any one person in particular, I know so many phenomenal nurses that have encouraged me through my career that I can't possibly pick just one individual 🙂
If you think travel nursing could be the next step in your nursing career, visit our FAQ page or Contact us today
to learn more!