Advantage Medical Professionals Celebrates Nurses Week: Desiree Evans, RN
Advantage Medical Professionals Celebrates Nurses Week: Desiree Evans, RN
Nurses Week is a yearly celebration beginning on May 6th and ending on May 12th that honors the nursing profession. This year, we're celebrating each day by turning the spotlight on one of our very own healthcare heroes! Read on to learn more about Desiree Evans, RN.
What is your biggest achievement to date – personal or professional?
There have been numerous times that I have run into someone from my past who seemed genuinely happy to see me and expressed how they're changed from something I did or said to them.  There is nothing more rewarding for me than to know that someone actually took heed to my advice, or learned from me and is better for it.  I feel in those moments that I have served my purpose for being.
What do you love to do on your days off when you're not working on an assignment?
At this point in my life I appreciate as many moments when I can do absolutely nothing while at the same time having no pressing deadlines of any kind at the back of my mind.  Besides that I enjoy going to the country to hang out with my grandmother, and taking as many vacations with my children as possible.  I never get tired of traveling.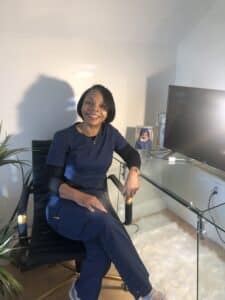 What is your favorite part about working with children as a school nurse?
My first experience working as a school nurse was through Advantage Medical Professionals.  I knew before arriving to the school that it would be a great experience because I ABSOLUTELY love children; especially the little ones.  They are so cute and hilarious in their candor and dramatic story telling.  I love indulging their stories and seeing how they are miraculously healed after ice or a Band-Aid.  I actually look forward to going to work when the assignment is a school; it's not a "job", it is pure enjoyment and fun.  My oldest daughter loves hearing when I tell her that I will be at a school, because she looks forward to all of the funny stories about my "little fakers".  Working in public schools is also a great opportunity to help a lot of less fortunate children as well as an opportunity to observe and intervene early on potentially serious medical conditions or social situations that could be life changing.
How has the nursing profession changed since the beginning of your career?
I don't feel that there has been significant change besides technological changes since I began nursing.  At times when I have taken long pauses and return, getting back to it seemed to be like riding a bike.  Certainly we have learned more regarding safety, proficiency, and efficiency as well as advances in treatments of disease processes and we adjust accordingly.
If you think travel nursing or per diem nursing could be the next step in your nursing career, visit our FAQ page or Contact us today to learn more!