Advantage Medical Professionals Attends TravCon 2021
Advantage Medical Professionals Attends TravCon 2021
Advantage Medical Professionals had a blast at TravCon 2021! After a hiatus in 2020, the largest healthcare traveler conference was back and better than ever for 2021.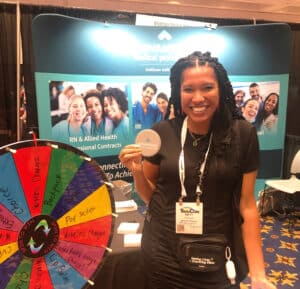 Travel nurses, Allied Health professionals, and other medical professionals gather each year in Las Vegas with 1,500 other healthcare travelers to earn CEs, network, and celebrate among their healthcare professional peers.
In addition, travelers get the opportunity to meet with Advantage Medical Professionals, pick up great giveaways, and enter to win big prizes! TravCon also featured more than 40 experts speaking over the course of the conference from topics that range from tax basics, housing, licensure, bill rate breakdown and so much more!
If you've ever considered taking a travel nurse assignment or wanted to learn more, don't miss out next year! TravCon is scheduled for September 18th– September 22nd, 2022 at the Paris in Las Vegas. Ready to get the most out of your career?
Contact Us Today And Let's Get Started! >