9 Must-haves Every Travel Nurse Should Take on Assignment
Traveling nurses come from all walks of life and "home" looks different for everyone. The unique challenge for traveling nurses is that not only do they have limited downtime and bandwidth between shifts to devote to elaborately decorating their living space, but they also have to pick up and start the whole process each time they accept a new travel assignment.
At Advantage Medical Professionals, we recognize this challenge and listened to all the valuable advice over the years from the people who know best – our nurses! Although our nursing team provided countless "must-have" essentials they can't live without, there are definitely a handful of items that rose to the top – and we're here to share them all!
1. Cozy Throw Blanket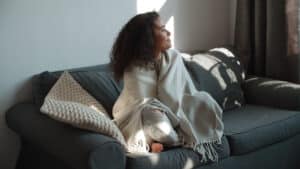 Make sure to bring your coziest throw blanket, quilt, or afghan from home for vegging out and binging your favorite TV show after an exhausting hospital shift. Don't have one or are worried it'll get lost in the traveling shuffle? No worries, we got you covered (literally) with this comfy throw that comes in virtually every color.
2. Comfy (and Portable) Reading Chair
Whether your current accommodations are furnished or not, it's nice to have at least one constant piece of furniture to bring along to make every new place feel like your place when on your travel nurse assignment. This saucer-style chair and this adjustable lounge-style chair are both affordable AND fold up for easy transport.
3. Storage Ottoman or Trunk
Having a storage trunk or ottoman is great for easy, safe storage of mementos from home like framed photos, blankets, and other trinkets. An extra bonus is it also serves another piece of furniture that is uniquely yours, no matter where you happen to live in a given 13-week assignment.

Pro-tip: If you're buying an ottoman or storage chest that is new to you, pay attention to the measurements if you're planning to fit it into your trunk or backseat.
4. Signature Scents
If you have a signature scent that reminds you of home while out on your travel assignment, find a way to take it with you! Bring or buy the same candles, potpourri, diffusers, soaps, etc. you've grown to associate with home (or with your favorite family member's home) and use them in your new space. If nothing comes to mind, you can always try these signature state scent candles.
5. Framed Photos of Loved Ones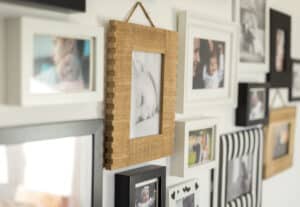 Yes, we all have pictures on our phones but there's something about a nicely framed photo of your momma, your daddy, your kiddos, or your doggo that just hits differently. If you love the idea of a gallery wall, these adhesive wall hooks are usually landlord-approved and perfect for easy installation.
There are plenty of subscription photo services like Shutterfly, or you can always order photo prints from the local pharmacy if you're looking for a good excuse to get out there and familiarize yourself with the new town you're working your contract in.
6. Quality Pillows, Sheets and Mattress Toppers
There's no sleep like the sleep you get in your own bed – chances are, you won't be able to bring your whole bed from home with you on your travel nursing assignments. However, you can (and probably should) bring your own bed sheets, pillows and even your own mattress topper to help keep your sleep routine on track. Day and night shift nurses agree – good sleep is mandatory on any travel assignment!
7. Instant Pot
Need we say more? This Instant Pot has 11 functions you'll actually use (slow cooker, pressure cooker, air fryer, roaster, rice cooker, steamer, etc.) and its small footprint lends itself perfectly to smaller kitchen spaces. Now, you can cook your favorite homemade meals as fast (or slow) as you want without all the homemade mess, cookware, and dirty dishes. It's perfect for meal prepping a big batch for nurses just beginning their 36 hours!
8. Travel-friendly Water Filter Bottle
Say what you will, but every healthcare facility's tap water seems to have its own unique… "flavor" if you will. This Brita water filter bottle comes in 2 sizes that are both small enough to be travel-friendly and still hold plenty enough water for several of those mid-shift or mid-snooze urges for some fresh H2O.
9. Plants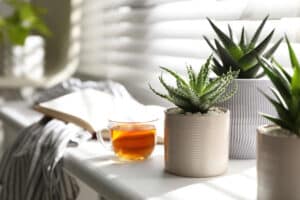 Visit the local nursery or home & garden store to grab some fresh flora to brighten up your temporary home.

Low-maintenance plants to try:
Succulents, snake plants, spider plants, aloe vera, philodendron, and cast iron plants.
If you're really just into having fresh herbs on hand, you can also try an herb starter kit.
Honorable Mentions:
-Enjoy this Urban Map Rocks Glass featuring a street map of the city you call home. 
-Relive the glory days with this frosted beer glass with hand-drawn art featuring your alma mater. 
Where will your next travel home be? Check out all our amazing travel locations!