Why Clinicians Should Consider Working Per Diem: 8 Compelling Reasons
Latin for "by the day", the phrase "Per Diem" has carried a few different meanings depending on the context. In the healthcare industry, we've all come to associate this phrase with the types of shifts NO ONE wants to work, or the clinicians who are called to fill in gaps in the department when it seems the entire unit caught the stomach virus or managed to score tickets to the same Taylor Swift concert. Either way, those associations aren't wrong. However, most healthcare workers are not fully aware of the benefits and opportunities per diem work brings, or that per diem shifts are not just limited to registered nurses. At Advantage Medical Professionals, we have Per Diem opportunities available for RNs, LPN/LVNs, CNAs, and other Allied healthcare professionals.
Read below to learn more and clear up some common misconceptions about Per Diem healthcare work.
1. Flexibility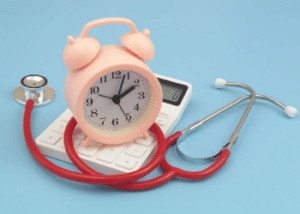 Working Per diem jobs allow you to pick up shifts at your convenience, providing freedom and flexibility in your schedule and career. Of course, this goes both ways – since most of these shifts are assigned at late notice, you'll have to keep your schedule open or at least somewhat flexible on the days you list yourself as available to work. At Advantage Medical Professionals, we provide the ultimate flexibility! There are no shift minimums to work each month, so you truly manage your own schedule to work as much or as little as you would like.
2. Higher Hourly Rates
Since Per Diem clinicians are required to keep their schedules open and flexible, they reap the benefit of being paid a higher hourly rate throughout the shifts they work compared to a facility's own staff, much like a travel assignment. However, Per Diem workers get the added benefit of working close to home.
3. Work Now, Get Paid Now
As if higher pay rates weren't enough, some staffing agencies offer clinicians daily pay for per diem shifts. Advantage Medical Professionals also offers daily pay for clinicians Monday through Friday. So, if you're picking up per diem shifts to help pay for time-sensitive or emergency expenses, you can count on getting the money you earned daily via direct deposit.
4. Supplemental Income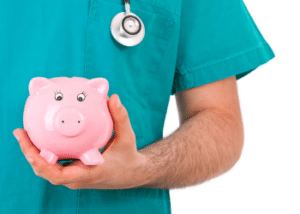 Speaking of flexibility, the supplemental income healthcare professionals can earn from taking per diem shifts between travel assignments, vacations, and other obligations allows them to build a bigger nest egg and more financial freedom to ease up on their work schedule later on. This is especially helpful when preparing to buy a big-ticket item, summer vacation, or simply preparing for the extra spending that the holiday season inevitably brings.
5. It's a Crash Course in Travel Healthcare Work
Many traveling nurses and healthcare professionals dip their toes into per diem work for a period of time before leaping into their first travel assignment. Working per diem shifts allows you to work and learn new things from different healthcare facilities while still being in or near the town you live and are familiar with.
6. Professional Development & Networking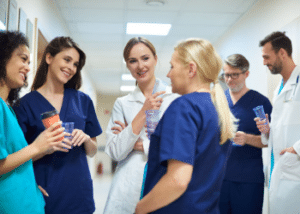 There are several types of facilities that depend on supplemental healthcare staff – hospitals, nursing homes, schools, correctional facilities, etc. No two healthcare facilities are the same, and each one has its own unique processes, challenges, opportunities, personalities on staff, you name it. Also, it never hurts to build relationships with hiring staff or unit directors in your area – you never know when or how you will run into them later in your nursing career. You may find yourself learning a new charting system or observing a procedure you're unfamiliar with. The development possibilities are truly endless!
7. Employee Benefits
A common misconception about per diem nursing is that nurses are unable to qualify for employer-provided benefits like per diem health insurance, life insurance, or paid time off. While regulations vary, most employers DO offer these benefits to per diem nurses who work at least 36 hours per week.
Click here to learn more about the benefits we offer to qualifying per diem nurses.
8. That Warm Fuzzy Feeling
There's something to be said for being one of those "knights in shining armor" that is willing to swoop in and throw a lifeline to another clinician who desperately needs time off for a major illness, family emergency, or is experiencing burnout and just needs a couple of days to regroup. It's always incredibly rewarding to help another colleague or facility in need.
Whether you're looking to supplement your income with additional hours, further advance your healthcare career, keep your bedside skills up-to-date, or try out different facilities – per diem work might be for you.
At Advantage Medical Professionals, we currently have per diem work available for nurses, CNAs, and other Allied Healthcare Professionals in the following greater metropolitan areas:
>> Clinicians – Find Per Diem opportunities in your area, contact us TODAY!